The Penguins National Nature Reserve:
Magdalena Island, Punta Arenas, Chile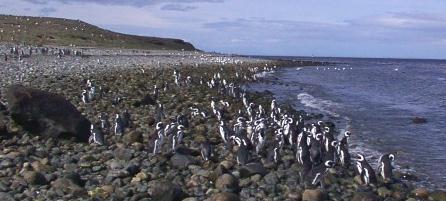 One of Chile's largest and most important Magellanic penguin breeding sites is situated on Magdalena Island in the Straits of Magellan. The island has been designated a national nature reserve because of its importance as a penguin breeding site, and the reserve is managed by the government agency Corporación Nacional Forestal.
The island is a popular tourist destination, so monitoring the effects of tourism is essential, in order to ensure sustainable use of the penguins as a tourist resource. Many years ago commercial fishing in the Straits of Magellan caused penguin populations to decline. However following designation of Magdalena Island as a nature reserve, the Chilean government established a no-fishing zone to protect the penguins.
Mike Bingham, in partnership with the Chilean and British governments, and the Organization for the Conservation of Penguins, established a long-term penguin monitoring programme on the island in 1998. The programme monitors the effects of tourism, and compares penguin populations on Magdalena, where commercial fishing is now banned, with those in the Falklands, where commercial fishing close to penguin breeding sites still occurs with devastating results for the penguins.
BINGHAM & HERRMANN (2008) Magellanic Penguin Monitoring Results for Magdalena Island 2000-08. Anales Instituto Patagonia (Chile) 36(2): 19-32.
BINGHAM (2002) The decline of Falkland Islands penguins in the presence of a commercial fishing industry. Revista Chilena de Historia Natural 75: 805-818.
A population census of Magdalena Island during 2000/01 recorded a penguin population of 59,000 breeding pairs, along with an assortment of other seabirds and wildlife. By 2008/09 the penguin population had risen to 63,000 breeding pairs. Click on the links below for survey maps and data in English and Spanish:
PENGUINS , GULLS , BIRDS , HABITAT
Comparison with data from the Falkland Islands, highlights the problems faced when food resources are diminished by commercial fishing boats, operating within 30km of Magellanic penguin breeding sites.
Fishing within 30km of Penguins: CHILE no / FALKLANDS yes
Population: CHILE 6% increase over 8 years / FALKLANDS 90% decline over 20 yrs
Breeding Success (chicks per pair): CHILE 1.1 / FALKLANDS 0.5
Foraging Duration: CHILE 18 hours / FALKLANDS 34 hours
Fledging Weights: CHILE 3.3 kgs / FALKLANDS 2.6 kgs
Fledging Survival to Adulthood: CHILE ~ 20% / FALKLANDS ~ 1%
Since penguins on Magdalena Island were protected through a ban on commercial fishing around the island, penguin populations have increased. Comparison with the Falkland Islands shows how commercial fishing close to penguin breeding sites can lead to population decline. Studies from Cabo Virgenes, Argentina's nearest Magellanic penguin colony to the Falklands, confirms these results. Cabo Virgenes has also shown a population increase and high chick survival since a no-fishing zone was established around the colony by the Argentine government.
Where commercial fishing is allowed within the 30km foraging range of breeding penguins, the abundance of fish and squid is obviously reduced. This means that adults seeking food for chicks take much longer finding food (34 hours in the Falklands, but only 18 hours in Chile and Argentina). Chicks therefore receive much less food, so much fewer chicks survive (only 0.5 chicks per nest in the Falklands, but 1.1 chicks per nest in Chile and 1.0 chicks per nest in Argentina). The main cause of chick mortality in the Falklands was starvation, and those chicks that do survive to the point of fledging were malnourished (average weight only 2.6 kgs in the Falklands, compared to 3.3 kgs in Chile and 3.0 kgs in Argentina). This lower body weight in the Falklands means that even the surviving chicks have a low chance of surviving their first year, which is exactly what we see.
You can support our work to protect penguins in Chile, by adopting a penguin. Visit our Adopt-a-Penguin page for further details.
In addition to our research on Magdalena Island, the Organization for the Conservation of Penguins trains Chilean government staff in seabird monitoring techniques, so that eventually the host country will be able to continue the seabird monitoring programme itself on a long-term basis. This work has been funded by the British government, through the Darwin Initiative Programme.
---
Web page created by Mike Bingham